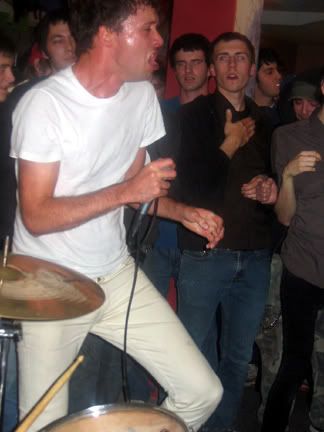 DAS OATH
Finally, a couple of shows to write about, both in college environments. Hey, I'm glad it's the school year so there are more options, once again. The headliners at both of these shows approach their music in an against-the-grain, aggressive/abrasive fashion but in different ways. At MassArt, it was first local appearance (pretty sure) of
Pissed Jeans
, who I wrote about in the Pointless Fest. They were one of two bands I saw play at the church down there before the fest got shut down due to stupidity. It's a heavy sound. Usually slow and pounding, bringing a noisy early 90s vibe. Volleys of guitar feedback, a punishing rhythm and Matt's up-front vocal presence, although not as confrontational as in Philly. They were the highpoint of the three band show, which also included
Blank Stare
, whose hardcore attack was lost in the shitty sound din and Benjamin's vocals were inaudible. Last minute replacement
Serious Geniuses
, played pop/punk/indy rock. Enough volume to keep it somewhat interesting.
A few nights later, there was a free show at the Oxfam Cafe at Tufts, featuring
Das Oath
. A whirlwind hardcore sound—Mark McCoy's high-pitched vocals at the center of a flailing, loud-fast attack. Within the cacophony, there's a pretty basic hardcore influence and the covers of Agnostic Front and Bold bear that out.
Poison Control
only got to play three songs before the bass-drum head broke. The less said about
Daniel Striped Tiger
and
Ampere
the better, although the latter's screamy hardcore a little more palatable than DST's droney tedium.
MUSIC REVIEWS:
ASS-Sink (Profane Existence, CD-EP)
A Minneapolis band that cross screamy hardcore with more melodic UK anarcho punk and it actually works. Subtle rhythms, guitar that goes from buzzing to tuneful, somber bass-lines supporting and sometimes driving the melody and from-the-gut vocals. "4 More Years," the standout track, has a memorable melody along with angry words about what to expect from the radical christian right for, hopefully, just awhile longer—well, they'll always force the agenda but, hopefully, it'll eventually be insignificant, "ASSKICKATRON," on the other hand, takes a different (and whimsical) route—chanted spelling out of the song's title, semi-rap vocals and a party-type atmosphere. Well, sorta. (PO Box 8722, Minneapolis, MN 55408,
www.profaneexistence.com
)
BAMBIX-Club Matuchek (Go-Kart, CD)

Imagine Feargal Sharkey from the Undertones fronting a modern-day poppy punk band. OK, Willia van Houdt's voice doesn't quite reach the high register of Mr. Sharkey but that's what I thought of and it's not all that much of a positive. If there had been a little more grit, a harder edge from this Dutch band, it may have been more appealing. The sweetening effects in both the music (though not the completely squishy west coast sound) and the lead and backing vocals detract. (PO Box 20, New York, NY 10012,
http://www.gokartrecords.com/
)
BITTER END-Mind In Chains (Malfunction, CD-EP)

Harrrrrrrdcore—tough riffage, some speed and metallic leads. Definitely a NY vibe for this Houston band and a lyrical fatalism, particularly for "World Demise." The same story—if it was just thrash, without the floor-punchin' fodder, it'd be more palatable. (
http://www.malfunctionrecords.com/
)
FUCKED UP-Hidden World (Jade Tree, CD)

I had MP3s of this album some months before its release (shh.... don't tell anyone) and had played it a number of times, trying to get a handle on it. Mainly, do I like it or not? I suppose that's what it comes down to and it's oneof those albums I had to really delve into, mainly due to my fondness for their previous releases. It generated mixed feelings, for sure. In short, was it brilliant? Overblown? Pushing things to a ludicrous extreme? Fucked Up are definitely a band who like to confound the listener, to mindfuck and challenge. Not so much in a musical sense, since this isn't that big a stylistic departure, musically. Sure, there are dollops of strings and ethereal vocals, even some whistling during the fade-out of "Hidden World." The big change is in the length of the songs. The album runs over an hour and most of the songs are over five minutes, including a remake of the earlier single "Baiting The Public." Damian's vocal bark hasn't changed and they stick with the usual medium tempo. The songs are also much more melodic and accessible, yet without losing the punchiness. It's all spread out and takes time making the musical point—the closing song, "Vivian Girls," runs over 9 minutes. In other words, there's bloat and perhaps some judicious self-editing would have strengthened the impact. That said, it's a good sounding album that crackles nicely out of the speakers and provides a warm aural blanket (ugh, sorry). And, to answer the question, this opus did eventually win me over. (2310 Kennwynn Rd., Wilmington, DE 19810,
http://www.jadetree.com/
)
HAVE HEART-The Things We Carry (Bridge Nine, LP)

What a beautiful package—gatefold sleeve, brown and orange swirl vinyl. I wish the musical contents were as memorable. There's a forecful nature to Have Heart's brand of hardcore, mainly due to the loudness of the production that brings out the punch. The standard thrash/crunch/hint of melody, an urgent vocal delivery and hearty backups. As with the thrashy hardcore punk I lean towards, Have Heart's music fits a certain mold—straight-edge, probing the meaning of life, a strength of belief. It's always good to have strong beliefs in yourself, even with the doubts that accompany them. I just don't find the vessel of communication that appealing, either musically or in the grim-faced delivery. (PO Box 990029, Boston, MA 02199,
http://www.bridge9.com/
)
HERESY-Face Up To It (Boss Tuneage, CD)/1985-'87 (Boss Tuneage, CD)

Let the bludgeoning begin—two discs of this 80s era UK hardcore band. Heresy drew quite a bit of its inspiration from my beloved MassHoles Siege—the speed and fury, at least and they also added a metallic coating (sorry to resort to bad rock critic illiteration here), at least on the earlier stuff (represented by the "1985-'87 disc). In the early days, the vocals were handled by guitarist Reevesy and they were kind of buried in the mix. Eventually, a young man named John March entered as the band's vocalist and his chafing, gruff vocals certainly added to the fray. That disc includes their 7", flexi, songs from the split with Concrete Sox and their first demo. "Face Up To It," recorded in'88, was Heresy's first album and, according to bass-player Kalv, it sounded like shite, to use their parlance but the remix they did in '03 makes it sound not-too-bad. Relatively speaking, that is—there's still an echo-like quality. It's a high speed rampage throughout. Speaking of sounding like shit, the practice demos appended ontothe disc don't add a whole lot. Truth be told, I was never that into the speed-for-speed's-sake approach and the songs haven't dated that well. More power than memorability. (PO Box 74, Sandy, Bedfordshire, SG19 2WB, UK,
http://www.bosstuneage.com/
)
HUNCHBACK-Ugly On The Outside (Freedom School, CD)

Garage/psych that really isn't all that head-bending. "Feeling betterdotcom" begins the affair on a subdued note, but gets livelier on the second song "Respect For The Dead." The gnashing/driving "Ride The Dying" takes things in a harder-edged direction while "Black Sunday" is decent bit of garage derivativeness. The cover of Killdozer's "A Mother Has A Hard Road" also provides a decent head-rush. I'm less enamored of the softer "The Last Man On Earth." A little more savageness and I wouldn't have any reservations. As it stands, it's a tad uneven. (
http://www.thehunchback.net/
)
MIKA MIKO-C.Y.S.L.A.B.F (Kill Rock Stars, CD)

Is it fair to call this the return of riot grrrl punk? Not really—Mika Miko do have the jittery, stripped down guitar sound and attitude of some of those early 90s bands but it's probably inspired just as much by late 70s new wavish punk and post-punk, as well. A bouncy rhythmic foundation, keyboards adding a melodic element on some songs, snaky guitar lines and boisterous (sometimes dual) vocals. "The Dress" encapsulates all of those elements the best. "End Of Time," "Don't Shake It Off" and "Take It Serious," meanwhile, have a more direct punk style. There's a fresh energy here. (PMB 418, 120 State Ave. NE, Olympia, WA 98501,
http://www.killrockstars.com/
)
NEW MEXICAN DISASTER SQUAD (Jade Tree, CD)

As with the band's other records, this does hit a chord… a Lifetime/Kid Dynamite vibe here. NMDS play driving, melodic hardcore with earnest-yet-throaty vocals and it has me hooked. Lyrics expressing a good amount of dissatisfaction, whether in the protragonist's life or society at large. The whiff of familiarity, but giving it a sense of renewal and urgency. (2310 Kennwynn Rd., Wilmington, DE 19810,
http://www.jadetree.com/
)
SUBHUMANS-New Dark Age Parade (Alternative Tentacles, CD)

These are the Canadian Subhumans, as opposed the UK Subhumans and it seems as though people who like one of them can't stand the other. I actually like both of them and was curious to hear this album, their first in over 20 years, but it's disappointing. There are three lyricists in the band—vocalist Brian "Wimpy Roy" Goble, guitarist Mike Graham and bassist Gerry "Useless" Hannah. I'm in agreement with the Subhumans' take on world state of affairs. The songs are decently-crafted, well-played, tuneful but there's something missing. Even on a more energetic song such as "Moving Forward," it's still not gripping. With bands returning to the scene after a long absence, one holds out hope it'll be a triumphant one. Sometimes, there are pleasant surprises (Mission of Burma, The State), but this isn't one of those instances, unfortunately. By the way, "Incorrect Thoughts," the Subhumans' first album, is a somewhat unheralded classic, probably best-known for the sarcastic "Slave To My Dick," but full of heartfelt, energetic songs. Hopefully, someday, there will be a reissue of the original mix, in the correct running order and not the remixed abortion put out by CD Presents. (PO Box 419092, SF, CA 94141,
http://www.alternativetentacles.com/
)
SUNDAY MORNING EINSTEINS-Sanningen om Sunday Morning Einsteins (Prank, LP)
No English cheat-sheets for SME's latest hardcore offering. You'll have to dig out the Swedish dictionary for the translations, I suppose, although "Marching To A Different D-Beat" at least offers some insight. No insight necessary, actually. Good slam-bang hardcore punk that wrecks all in sight. Standard tuning on the guitars and I find that preferable to lower tunings you sometimes hear from the modern-day Swedish bands. And even though a D-beat is mentioned in that song, SME don't follow the Dis-route. Also, they seldom let up on the speed, except on a few songs, so it tends to run together a bit but, still, it's hard to go wrong with this kind of aggro. (PO Box 410892, SF, CA 94141-0892,
http://www.prankrecords.com/
)
TRIPLE THREAT-Into The Darkness (Bridge Nine, LP)
Wow, this wasn't what I expected at all, given that Tim McMahon and Ed McKirdy from Mouthpiece and Hands Tied are in this band. And it's a pleasant surprise. It's a hard-edged, darker sound inspired by Black Flag and, especially, Bl'ast, among other bands. McMahon's vocals remain in the shouted style, along with those types of backup vocals but it's no youth crew effort. Medium-speed riffs give way to lurching stop/starts and back again. Triple Threat find a way to be heavy without relying on mosh-style riffing. I like the fact these guys are trying something a different instead of riding on past glories. (PO Box 990029, Boston, MA 02199,
www.bridge9.com
)